January 22, 2020
RTE Karnataka Admission 2020-21 Apply @ schooleducation.kar.nic.in
RTE Karnataka Admission, RTE Karnataka Application Form: Government of Karnataka, Education Department released notification regarding admission in standard-1 as per Right to Education norms. Subsequently, all the selected students will get 25% reservation in admission in various schools of state of Karnataka. Department Of Public Instruction, Government of Karnataka, Bengaluru expected to publish notification for the RTE Karnataka Admission for the academic year in the upcoming days on their official website schooleducation.kar.nic.in. Eligible and interested applicants may read full advertisement carefully and apply online RTE Karnataka Admission on its official website.
RTE Karnataka Admission
The Right of Children to Free and Compulsory Education Act or Right to Education Act (RTE), is an Act of the Parliament of India enacted on 4 August 2009. The act describes the modalities of the importance of free and compulsory education for children between 6 and 14 in India under Article 21a of the Indian Constitution. The Act makes education a fundamental right of every child between the ages of 6 and 14 and specifies minimum norms in elementary schools. It requires all private schools to reserve 25% of seats to children (to be reimbursed by the state as part of the public-private partnership plan).
Kids are admitted in to private schools based on economic status or caste based reservations. It also prohibits all unrecognized schools from practice, and makes provisions for no donation or capitation fees and no interview of the child or parent for admission.
All the parents are ask to pay a lot of money for admission which they can't afford it. So the Government decided to exchange the entire process of admission of the students to different schools and submission of applications under the Right to Education (RTE) quota online and applicants if qualify this examination then he/she will do our future study till 10th class of totally free of cost. So applicants check all detail of this through the official site of organization.
RTE Karnataka Admission Eligibility 
1. Government issued order dated 18-03-2013, identifying the weaker section and disadvantaged group and fixing the maximum annual income limit up to 3.5 Lakhs
Age Limit: Students whose age is in between 3 years 10 months to 4 years 10 months can get an entry to LKG & Pre School, and 5 years 10 months to 6 years 10 months may easily get admission to 1st standard as on Jun 01, 2016.
Age of the Child Should be in the age group of 6-14 years for seeking Free Compulsory Education under RTE.
LKG Date Required for eligibility from: 01-08-2010 to 31-07-2013
Date Eligibility for 1st Standard is: 01-08-2010 to 31-07-2012
Admission Process: Candidates selection will be done via online mode only through the lottery draw system. Parents can easily check the status of their Karnataka RTE Admission Result online as well as they'll be informed through SMSs.
RTE Admission Required Documents
Here is the complete list of documents for RTE Admission Karnataka
Income Certificate
Caste Certificate
Age Proof (Ration Card / Aadhaar Card / Birth Certificate)
Domicile / Residential Certificate
Birth Certificate
RTE Karnataka Important Act, Rules Notification
Circular regarding admission process in Aided Schools under RTE 12(1)(b) for the year 2018-19 to publish schoolwise seats in software.  [21-02-2018]
Circular regarding admission process in Aided Schools under RTE 12(1)(b) for the year 2018-19. [08-02-2018]
Nighbourhood schools mapping circular for the year 2018-19.  [06-02-2018]
Circular and timetable regarding admission process RTE 2009 under Section 12(1)(B) & 12(1)(C).  [05-02-2018]
Government Order regarding RTE Admission Process for the year 2018-19.
Karnataka Right of Children to Free and Compulsory Education Rules, 2012.
Government of India – The Right of Children to Free and Compulsory Education Act, 2009.
RTE Karnataka Act, Rules & Circulars Click here
RTE Karnataka Online Registration 
Applicants have to go on official website schooleducation.kar.nic.in.
Navigate arrow to Online application.
Enter Aadhar Number.
Read all instruction well and fill necessary details.
Submit online application and take print out form.
RTE Karnataka Admission
Eligible student's parents are advise to visit the official website of Department of Public works, Government of Karnataka Website to fill the form online, submit the same before the last date of submission of RTE Application forms for the year 2018-19, Aadhaar is essential to apply online for RTE Admissions into LKG or 1st Std., eligibility for LKG or 1st Standard admission.
The State Government has declared a fixed pattern for Karnataka RTE Admissions 2018-19. As per the official notification, each school must reserve some seats for the poor candidates. All these candidates can fill the RTE Online Application Form after which a lottery will open. Afterwards, govt. will declare the results of RTE Admission.
Admission Notification for the year 2018-2019 released here interested users can also check the RTE Result below-settled link for more details. Candidates now fill the Admission form.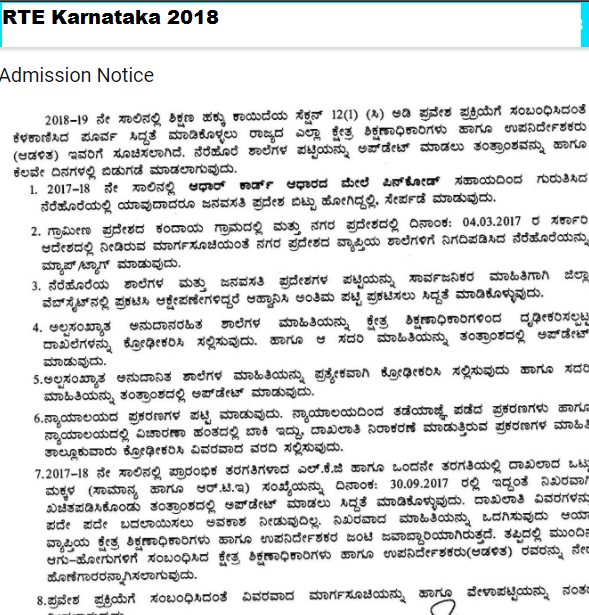 Important Date
Start Date for Admissions Open:  1st March 2018
Last Date for Admission Close: 21st March 2018
RTE Karnataka Admission Schedule
Candidate can check the admission process and the time table for Admission Click here.
Know your School- Provisional List for RTE Karnataka Admission
Know your School  – Provisional List for RTE 2018
Right to Education[RTE] 2018 Portal
Final Words
If you have any query regarding RTE Admission don't hesitate to share with us. Leave your Comments/ query in the comment box given below. We will try to assist you.
Candidates are advise to bookmarks this page and be regular touch on this page for get more latest updates about RTE Karnataka Admission.
Share On